If you have been following my blogs or are among my sphere of friends and colleagues it is no secret that I think social media is the biggest innovation in my 30 year career. I truly have not seen anything spread as quickly as MySpace, Facebook, Twitter, etc. What began as online communities for students, and friends to reconnect and those with similar interests to meet has become nothing short of a social phenomenon.
According to a recent Harris poll, almost half of US adults are active in online social media, and that number is increasing, especially Facebook and Twitter, the latter seeing an increase in 5 million users this past month alone!
As a marketing professional or business owner, you should embrace this phenomenon, and many have. A recent study by Michael Stelzner revealed that an astonishing 88 percent of professional marketers are using some form of social media. The study also goes on to point out that the longer they use it, the more time they devote to it.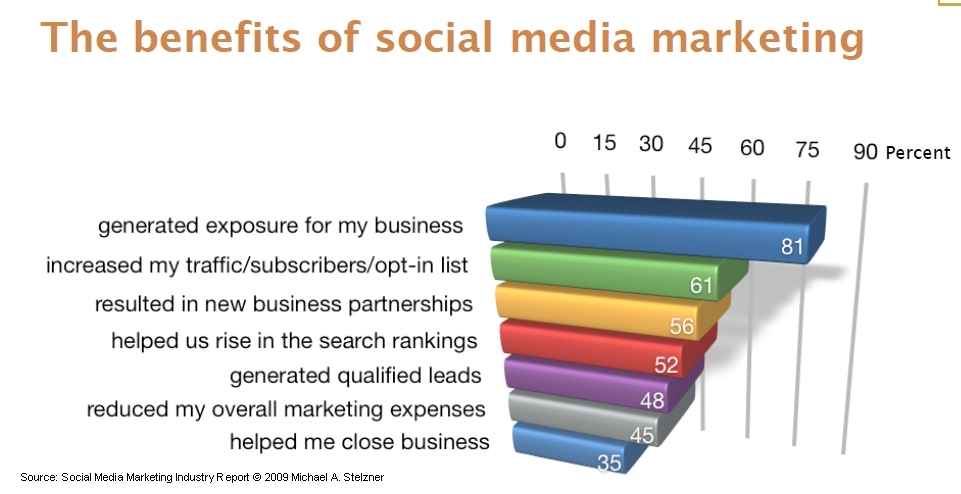 Don't take my word for it though; the same study also took into account social media success rates. Marketing professionals used social media to generate business awareness at an 81 percent success rate. The study also goes on to report that those who had been using social media for an extended period of time (61.1 percent), found social media to be helpful in actually closing business, that's opposed the 35 percent that was seen by those who are new to social media marketing.
Social media is more than a social phenomenon; it's a marketers dream. Where else can you gain the exposure and participate in the two-way communication that you get from social media? Nowhere. We also see that those who have been involved with it the longest, see the greatest results.
Now who do you know that has been involved in social media marketing since the beginning? (Hint: STEVE JOLLY). Would you like to know more? Visit www.srj.net.