This Sunday is Mother's Day and if you haven't already got your gift, you better get on it! Whatever it is, you know that she definitely deserves it for putting up with you all these years. In fact, you should probably get her two of whatever it is, just in case. Enough can't be said about moms and what they do.
Moms are the ultimate multi-taskers. They are often asked to wear many hats around the house, and one of them is that of the CFO. According to Maria Bailey, author of Trillion Dollar Moms, mothers are responsible for 85 percent of the spending in their household.
Even though mothers have so much influence, they are hard to reach. According to the same study by Bailey, 70 percent of mothers feel that marketers are doing a bad job of reaching them.
The fact is that with the busy lives most mothers lead, it's difficult to reach them the correct message at the right time. To target mothers it helps to know what their preferences in media are and what kind of information they are sharing.
Luckily a 2008 survey conducted my MarketingtoMomsCoalition.org outlined the top ten activities of moms online. One especially exciting trend from the survey is that mothers are using online media more than ever. According to the survey, mothers with children under 18 years of age are online for an average of three hours a day. The survey found that the overwhelming majority of their time was spent managing e-mail.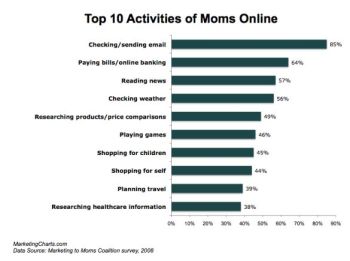 So now that you know where they are, what do you say? According to the same study, the majority of information shared by mothers online is jokes, events and videos/images. Now that you know where they are and what they are saying, what are you going to do reach them?
Need some help with your Mother's Day strategy? Visit www.srj.net today.