Thursday, February 20, 2014 at 06:13AM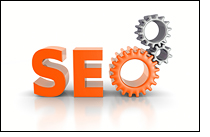 How you can use this to strengthen your website.
If you have been in business for a while, chances are you have heard the term SEO when it comes to marketing and the Internet. To most people, SEO seems like a technical term reserved for the likes of the most computer-savvy and maybe the people at Google. But the use of search engine optimization practices, or SEO, is a lot easier than you think and can make all the difference in drawing web traffic to your website. By learning a few key concepts, you can make sure that you are taking the right steps to be SEO satisfied.
What is search engine optimization?
Simply put, SEO is how you increase your website's visibility to your potential customers. When people log on to the Internet and search for a product or service that your business provides you want to appear in their search results above the competition. So how do you achieve primary billing in searches on search engines like Yahoo! Bing, and Google? The answer is through implementing a smart SEO strategy.
What are SEO keywords?
When someone is going to search for the product or service that your business provides, what words would they search for? Maybe its "hotels in Dallas," or "hospitals in East Texas." Whatever the exact phrase, these are the SEO keywords that you should be using in all of your web content to attract users to your site.
Why SEO original content is important.
So your website is finished and you are waiting for the traffic to roll in but its going slower than you expected. That is where SEO original content comes in handy. Whether it is creating a blog and using SEO keywords and phrases wisely or frequently updating the page content of your site, original content helps keep your business at the top of Internet searches.
The SEO content you don't see.
When it comes to optimizing your website, it is not just about the content that the user sees. In addition to the content on your site, each website page has a title and description that is a part of your website map. Although your customer may never see these titles, the search engines do. It is important to craft the right titles and page summaries so that your website gets notice.
Now that you know the basics of SEO, it's easy to understand the importance of these marketing practices for your business. If you are interested in learning more about crafting an SEO marketing strategy for your website, contact SRJ Marketing Communications by visiting here.